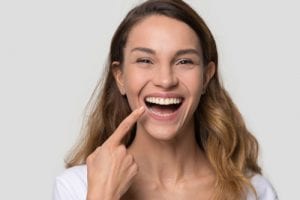 The American Academy of Periodontology reports that 50% of adults in the United States who are over the age of 30 currently have a gum infection in their mouth. It is also true that many of these individuals may have additional co-occurring dental concerns, such as a broken tooth or a toothache, that require prompt and often costly treatment. Our goal at Coleman & Coleman Dentistry is always to help our patients achieve optimal dental health at the most manageable cost, which is why we have devised a modified, low-cost periodontal treatment technique we are calling the "COLEMAN Technique". This modified periodontal treatment was initially performed to slow down gum infections while more pressing dental treatments were being completed for a patient; however, over the last two years we have found that the majority of patients who received the COLEMAN Technique were able to completely eliminate their infection! 
Typically, the recommended standard treatment for gum infections is four quadrants of root planing performed under anesthesia combined with the application of the antibiotic ARESTIN®. This treatment approach can cost between $1500 and $2200, which can be especially prohibitive for patients who are on a budget, don't have dental insurance, or need/want additional dental treatments. With the COLEMAN Technique, effective treatment for most gum infections costs only $285 and our patients' results have been consistently outstanding. Our dentists have noticed that many dental offices overuse root planing and ARESTIN® treatment, as well as laser gum disease treatment, and still their patients' reinfection rates within a year are at 30%. The COLEMAN Technique allows us to effectively treat infection and reserve more intensive treatments, like root planing, ARESTIN®, and laser techniques, for more severe cases. And, our success rates speak for themselves—our reinfection rate is a very low 8-10%!
It is important to understand that the COLEMAN Technique is not suitable for every case of gingival infection—there are certain instances where more intensive treatments will be required to adequately treat more serious and/or damaging infections. Our dentists carefully examine and evaluate each patient to make sure the most appropriate and effective treatment is recommended. The COLEMAN Technique cannot be used for:
Treating loss of attached gingiva
Infections requiring bone recontouring to treat
Teeth that need to be anesthetized before treatment
Patients that do not have the ability or hand-eye coordination to handle cleaning instruments that must be used on a daily basis to clean the teeth
Acute infections of the gums that require immediate draining and cleaning
Infections from cavities
Infections from root fractures
Endodontic (root tip) Infections
Gum infections around teeth with greater than 50% bone loss
To find out if the COLEMAN Technique is the right treatment for improving your gum health and overall oral health, we invite you to contact our dental office to schedule an appointment. As always our exams and x-rays are complementary for new patients and we will discuss all your options and costs before initiating any treatment.