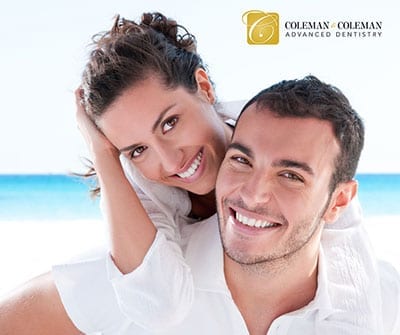 Do you want a more beautiful smile? We offer many cosmetic dentistry procedures at Coleman & Coleman Advanced Dentistry that can get you closer to achieving your goals. From porcelain veneers and teeth whitening to Invisalign® clear teeth aligners and comprehensive smile makeovers, our cosmetic dentists can examine your teeth and recommend the best treatments for straighter teeth and a whiter smile.
Below are the first two things you should know about cosmetic dentistry:
#1. Good cosmetic dentistry will balance with your facial features and your personality.
Did you know that a skilled cosmetic dentist can provide treatment that may enhance your overall appearance? A range of advanced procedures are available that can give your teeth a more even, healthier appearance that ultimately has an effect on your entire facial aesthetic. Dr. John Coleman will strategically develop a treatment plan that can complement your facial features.
#2. You can have a brand new smile in just one office visit.
Depending on the type of dental work you may need, a new smile can often be created in just one appointment! Certain treatments, like teeth whitening and other cosmetic dentistry procedures, can make a big difference and be accomplished in a single office visit.
Are you curious about the rest of our list? Keep an eye out for Part 2 of our blog series that concludes our list of the top five things you should know about cosmetic dentistry.
To learn more about our cosmetic dentistry services, please contact our North County dental office with questions, or to schedule an appointment.