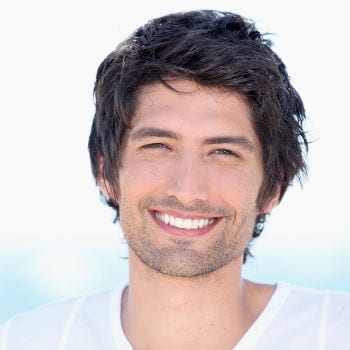 If chips, cracks, or stains have compromised your smile's beauty, consider porcelain veneers or Lumineers®. Made from thin shells of porcelain, veneers cover imperfections and create a uniform smile. Veneers can refresh any smile by altering the size, color, or shape of front teeth.
In just a couple of visits, we can change your smile and your self-image with veneers. During the first appointment our cosmetic dentist, Dr. Coleman, will prepare your teeth and take impressions for our dental lab. A talented ceramist will handcraft your veneers with fine dental porcelain that reflects light like natural tooth enamel. The dentist will place temporary veneers on your teeth at that first visit so that you can preview and "test drive" your new smile. At the next visit, Dr. Coleman will remove the temporaries, permanently bond your veneers in place, and make adjustments if required.

Relaxing, comfortable atmosphere. Coleman Dentistry provides excellent service and comprehensive dental care. I have been a patient for several years and have had major work done including six veneers. Both doctors have an excellent chair side manner and are very knowledgeable. They will always keep you informed as to what they are doing while performing work and will give you many treatment options. Their work is top notch!

Anonymous

May 30, 2011

12345
Not all patients can wear Lumineers
®
, the thin, no-prep veneers that have changed the smiles of many Hollywood stars. Dr. Coleman will evaluate your smile to determine if you are a good candidate for Lumineers
®
. With this type of veneers, patients don't need enamel reduction, so you can have them removed if you want to return to your original smile later in life.
Frequently Asked Questions (FAQs) About Porcelain Veneers and Lumineers®
Having a good understanding of what porcelain veneers and Lumineers® can do for your smile can help you determine if this treatment is right for you. To assist patients in the decision-making process, Dr. Coleman and Dr. John have provided answers to some of the most commonly asked questions about these popular procedures. For additional information, we encourage you to schedule a consultation with one of our dentists.
Who is a good candidate for Lumineers®?
Both traditional porcelain veneers and Lumineers® can provide excellent results. Lumineers® require less tooth reduction and can address many of the same concerns as traditional veneers. That said, this treatment is not for everyone. One of the primary concerns for determining if Lumineers® is appropriate is the bite alignment. In many cases, if you are a candidate for Invisalign® you will also be a candidate for Lumineers®. That said, an evaluation is the best way to decide if this technique can work for you.
Do porcelain veneers hurt?
Your comfort is a primary concern for our team. Porcelain veneers do require some reshaping (filing) of the teeth, but you will be numbed with a local anesthetic to reduce discomfort during this procedure. Most patients report no pain at all. Once the treatment is complete, you can take an over-the-counter medication to enhance your recovery as the anesthetic wears off. When the final veneers are cemented into place, you will again be anesthetized for the best experience possible. If you suffer from dental anxiety, we offer sedation dentistry options to help put you at greater ease.
How long does the procedure take?
Both Lumineers® and traditional porcelain veneers are a two-step process, so you will have to return to our practice for the follow-up in which we place the final veneers and complete your smile restoration. In the first stage the teeth are prepped, and you will leave the office with temporary veneers. The length of the appointment will depend on how many veneers you have placed. The second appointment often takes place one to two weeks later.
How long do porcelain veneers last?
How long veneers last has as much to do with how you treat them as it does the quality of the materials and precision of the treatment. With good oral hygiene, traditional porcelain veneers and Lumineers® can last at least 10 years, often much longer. Maintaining a good oral hygiene regimen can help you get the most out of your cosmetic procedure, as well as keep your natural teeth looking beautiful and free from damage.
How do I care for porcelain veneers?
Just like with your natural teeth, brushing and flossing every day are important to preserving the strength and quality of your dental veneers. It's also important to visit the dentist at regular intervals and maintain a healthy diet. Be careful not to brush too vigorously, as this can cause abrasions and gum recession. We can provide tips on the best brushing and flossing practices during your visit.
Are there any alternatives I should consider?
If porcelain veneers and Lumineers® are not right for you, there are other options you can consider. Cosmetic bonding offers an affordable way to minimize the appearance of chips and cracks. Teeth whitening can help brighten a smile. Invisalign® can improve bite alignment and straighten a smile. Sometimes, more than one of these techniques can be combined for more comprehensive aesthetic enhancement. This procedure is known as Smile Makeover.
Let us give you a spectacular smile. Contact our Vista dental office today and schedule an appointment with Dr. Coleman to discuss the benefit of veneers or Lumineers®. Residents of Vista and Oceanside can visit our practice for exceptional care.