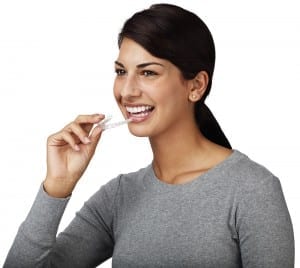 Designed to provide an alternative to traditional metal braces, Invisalign® is an innovative orthodontic technique that requires no metal parts. How does such a unique treatment straighten teeth? Dr. John Coleman and Dr. John Coleman III, our father and son dental team, reveal how custom-made plastic aligners can often achieve the same results as other orthodontic methods but with greater speed, comfort, and discretion than ever before:
The secret behind Invisalign®'s efficacy is the clear aligners. By using a series of custom-fitted, removable plastic trays, a patient's teeth can be gradually shifted into the desired position. Each tray is a single step in the process toward straighter teeth. After wearing the aligner for about two weeks, the individual can move on to the next tray in the series, and so on until treatment is complete. The aligners can be removed to eat, drink, floss, and brush, but they should be worn at all other times to achieve the best possible results in the least amount of time. In addition to its singular approach to teeth straightening, Invisalign® is virtually unnoticeable, so patients can smile without feeling self-conscious.
If you're bothered by misaligned teeth and you think Invisalign® may be right for you, we can provide additional information or answer any questions you might have.