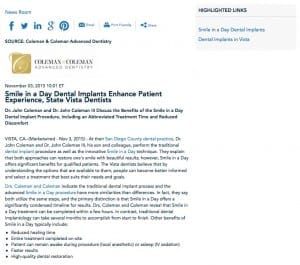 Dr. John Coleman and Dr. John Coleman III discuss the benefits of the Smile in a Day dental implant procedure, including an abbreviated treatment time and reduced discomfort.
Vista, CA — At their San Diego County dental practice, Dr. John Coleman and Dr. John Coleman III, his son and colleague, perform the traditional dental implant procedure as well as the innovative Smile in a Day technique. They explain that both approaches can restore one's smile with beautiful results; however, Smile in a Day offers significant benefits for qualified patients. The Vista dentists believe that by understanding the options that are available to them, people can become better informed and select a treatment that best suits their needs and goals.
Drs. Coleman and Coleman indicate the traditional dental implant process and the advanced Smile in a Day procedure have more similarities than differences. In fact, they say both utilize the same steps, and the primary distinction is that Smile in a Day offers a significantly condensed timeline for results. Drs. Coleman and Coleman reveal that Smile in a Day treatment can be completed within a few hours. In contrast, traditional dental implantology can take several months to accomplish from start to finish. Other benefits of Smile in a Day typically include:
Reduced healing time
Entire treatment completed on-site
Patient can remain awake during procedure (local anesthetic) or asleep (IV sedation)
Faster results
High-quality dental restoration
Drs. Coleman and Coleman emphasize that to achieve optimal results, patients should seek out a dentist who is extensively experienced in both procedures. Only about one percent of practicing dentists have this training, they add. They say the right dental professional will customize the treatment to suit the needs and goals of the individual, which may mean using the traditional dental implant approach. They explain that the best option will be the one that can provide excellence in beauty and function for years to come.
About Coleman & Coleman Advanced Dentistry
Led by a father and son team, Dr. John Coleman and Dr. John Coleman III, Coleman & Coleman Advanced Dentistry is a comprehensive dental practice serving the Vista, Oceanside, and San Marcos, California area. The state-of-the-art office provides general, cosmetic, and restorative dentistry options in a compassionate and luxurious environment. Patient experience is a key staple of the practice philosophy. The dentists and their skilled team are extensively trained in leading techniques and technology to optimize outcomes and enhance safety for each person.
For more information about Coleman & Coleman Advanced Dentistry, please visit sandiegocosmeticdental.com and facebook.com/colemandentistry.
Contact:
Coleman & Coleman Advanced Dentistry
110 Civic Center Dr., Ste. 102
Vista, CA 92084
(760) 726-0770
Rosemont Media
(858) 200-0044
www.rosemontmedia.com