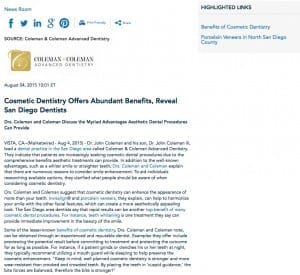 Drs. Coleman and Coleman discuss the myriad advantages aesthetic dental procedures can provide.

Vista, CA — Dr. John Coleman and his son, Dr. John Coleman III, lead a dental practice in the San Diego area called Coleman & Coleman Advanced Dentistry. They indicate that patients are increasingly seeking cosmetic dental procedures due to the comprehensive benefits aesthetic treatments can provide. In addition to the well-known advantages, such as a whiter smile or straighter teeth, Drs. Coleman and Coleman explain that there are numerous reasons to consider smile enhancement. To aid individuals researching available options, they clarified what people should be aware of when considering cosmetic dentistry.
Drs. Coleman and Coleman suggest that cosmetic dentistry can enhance the appearance of more than your teeth. Invisalign® and porcelain veneers, they explain, can help to harmonize your smile with the other facial features, which can create a more aesthetically appealing look. The San Diego area dentists say that rapid results can be another top benefit of many cosmetic dental procedures. For instance, teeth whitening is one treatment they say can provide immediate improvement in the beauty of the smile.
Some of the lesser-known benefits of cosmetic dentistry, Drs. Coleman and Coleman note, can be obtained through an experienced and reputable dentist. Examples they offer include previewing the potential result before committing to treatment and protecting the outcome for as long as possible. For instance, if a patient grinds or clenches his or her teeth at night, they typically recommend utilizing a mouth guard while sleeping to help preserve the cosmetic enhancement. "Keep in mind, well planned cosmetic dentistry is stronger and more wear-resistant than crooked and crowded teeth. By placing the teeth in 'cuspid guidance,' the bite forces are balanced, therefore the bite is stronger!"
When paired with routine general and restorative dental procedures as needed, Drs. Coleman and Coleman believe that cosmetic dentistry can help patients achieve the healthiest, most beautiful smile possible. They encourage individuals to seek out a highly trained dental professional to perform any type of dental technique; one who makes them feel comfortable and confident in the process. A good cosmetic dentist, Drs. Coleman and Coleman say, will listen attentively and answer any questions and concerns when developing a treatment plan.
About Coleman & Coleman Advanced Dentistry
Located in the Oceanside, Vista, and North San Diego County, CA area, Coleman & Coleman Advanced Dentistry is led by a father and son dental team. The practice offers a comprehensive range of cosmetic, restorative, and general dentistry procedures, including Invisalign®, porcelain veneers, and dental implants. Operating since 1982, the state-of-the-art facility is founded on the principle of exceptional patient care, and its team of dental professionals endeavors to help people achieve the healthiest smile possible.
For more information about Coleman & Coleman Advanced Dentistry, please visit sandiegocosmeticdental.com and facebook.com/colemandentistry.
Contact:

Coleman & Coleman Advanced Dentistry
110 Civic Center Dr., Ste. 102
Vista, CA 92084
(760) 291-8543
Rosemont Media
(858) 200-0044
www.rosemontmedia.com